Supplier Verification Notice
Finding the right supplier on the internet is always difficult. We can help you verify a Chinese supplier online or visit their factory.
From an online supplier verification, you will find out whether they are real or not.
From an onsite supplier verification, you will also know whether they are capable or not.
As we are based on Shenzhen, to visit a factory in other cities, travelling cost will be applied.
Order the Supplier Verification Service NOW
What is a video report for factory visit?
Verify a Chinese Supplier Online
1. Verify the information under their Name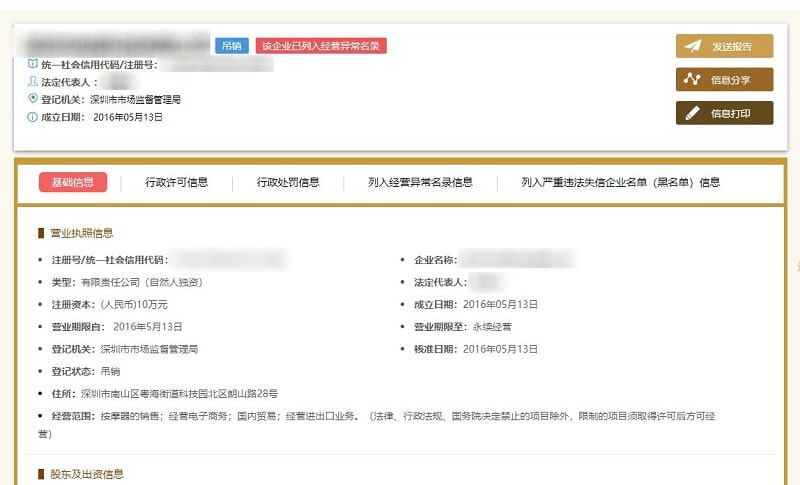 Whenever I got an English name of a Chinese supplier. I will first find what is their Chinese registration name. After this name, I will find their registration. It will contain the following important information. You can also use this Chinese government's tool to check their background if you understand Chinese.
(The photo: One Chinese Supplier Registration for example)
a) When the company started
There are a lot of 1 year old company. You need to pay attention to that.
b) Their main product on the registration.
They will list their main products on it. If the main products are not the same as what you plan to buy, you need to pay attention. This is very common for a trading company to change their main products.
c) Their address
Is their current address in the same city as it is listed on the registration? Sometimes it is not the same. It could mean this company has a big shift.
d) Their website(s)


Normally they may have an English website. (This is how you found them.) At the same time, they may have an affiliate company under the same (or similar name). The second website may look very much like the first company. But the second website sells a totally different product. They use one template for two websites. This could be a signal that they are trying to sell different products under the same team.
2. Verify the main products of a Chinese supplier
Every Chinese supplier needs to promote their products. Otherwise, you will not find them. Search their promotion online, you will find their products. Is it the same as you plan to purchase?
Conclusion
Not all suppliers are real.
You need to double check their background for a serious business.